---
Below is the links to my projects and links to my friend's web-sites:
The review of Omnium-Band's debut album 'Commander Stride' is posted on the 'Evolution Of Media' website. Check it out at: http://evolutionofmedia.com/review.asp
OMNIUM (RU) on iSOUND.COM - "One of the greatest Russian Jazz-Rock/Fusion bands from Moscow..."
OMNIUM at BeatPick - a record label dedicated to making it available for customers to listen and buy and for professionals to license new music by unsigned artists in 5 minutes - nobody on the web is able to match that!
www.worlddominationmusic.biz - The World Domination publishing company from London - the UK publisher for Ruslan Moiseev.
Bryan Eden (vocal)
Ruslan Moiseev (drums)
Mike Bowman (guitar)
Gio (bass)
---
As you already know I was in duty of organizing and hosting THE FESTIVAL OF JAZZ AND CONTEMPORARY MUSIC that was held for the second time this year in my home-town of Kaluga (outside Moscow) and went just fantastically well with the great closing show on February, the 28th. Everybody involved (both the artists and all the folks in the audience) were so much happy and exciting about the concert. This year my band OMNIUM was helping different contestants and playing along with the star-guests of the festival who came from Moscow, St. Petersburg, the city of Saratov and other places. The 3d Festival is scheduled on November 2007. Using the substantial assistance from the Regional Ministry of Culture and Education in financial terms and also widespread publicity of the event, I aim to make the next festival international with yet more interesting program and roster including several great bands from Western Europe to appear at the Festival and also undertake some other local engagements. So, please check back for the details on the Festival schedule.
Omnium band's debut album 'Commander Stride' is available on iTunes as a download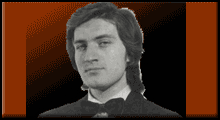 Songs from my Progressive Rock Omni-In-Prog album (2005) are in rotation on Olive's Brain Indie Radio and available for online requests!
! HOLIDAY SPECIAL: As a gift and just my way of saying thanks for visiting my site and leaving your name and email address I am pleased to offer you my brand new track GOOD CHRISTIAN MEN, REJOICE! that you can download absolutely FREE! And as a special holiday bonus you can read the interview I gave to 'Evolution of Media' web-site
NEWS: OMNIUM page on the 'Evolution Of Media' web-site. Check it out and please press VOTE!
Now let me introduce myself: I am a professional drummer, composer, songwriter and a bandleader. I consider myself as a seeker and sharer of professional knowledge and experience. My interests refuse confinement to category, and having extraordinary will, energy, insatiable enthusiasm and curiosity of life, I am anxious to continually expand my creative capabilities and to explode any limitations.
I am musical college graduate and have got both longtime studio practicing as a drummer, composer, arranger, and also onstage experience at professional level. I have authored 4 solo albums of songs and instrumentals in style of progressive-rock featuring a rock-band together with chamber orchestra, neo-classical pieces (solo-piano works), jazz/fusion and a few other projects, including music for TV, film and games are currently underway.
Below is OMNIUM bio:
OMNIUM is a four-piece all original band (guitar, bass, MalletKAT - electronic vibraphone and drums) that plays music in the style of Improvisational Contemporary Jazz/Fusion, which is a quite virtuoso and well-crafted stuff. The band plays locally in different clubs and at larger venues across the country on a regular basis with a big success, ever-growing following, and good CD sales. Their performance always turns to be a blast wherever they play.
OMNIUM has given several invariably enjoyable and crowd-pleasing shows at the international jazz and rock-festivals over the last year and has left audiences with double encore performances. The band became renown for their originality and quality of their unique sound that evolves almost organically, in a heady atmosphere that draws the band and audience together.
In September of 2004 OMNIUM has won the Grand-Prize at the International Jazz Festival. In the end of that year one of the band's compositions was included in a specially released compilation CD "Jazz in a Russian Way", and they have had press from local papers, Internet e-zines, and magazines.
The main motivation and inspiration behind the band's performances are to play the passionate music that would lift people's spirit and touch a human soul. One of the most important features with OMNIUM is that the band is trying to revive the art of ensemble improvisational musicianship. The aesthetics and the very essence of the approach to playing are very much different from the current tendency and dominant rule at the jazz scene at present, where there is normally a soloist and accompanying him/her back-up band. OMNIUM is actually the band of soloists. Joined, continues and vivid dialog of the musicians as well as spontaneity interaction on the common creative ground, such a 'witch brew' that is going on right in front of the audience, that is the main creative principle of OMNIUM.
---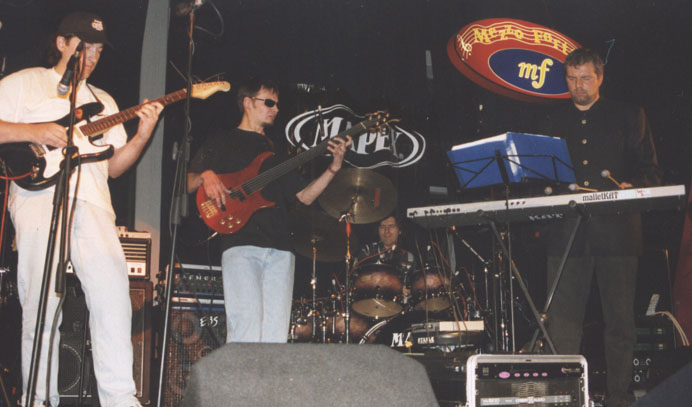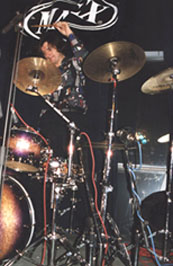 ---
In 2005 the band has released its full-length debut album COMMANDER STRIDE which is available on iTunes as a download and put out a live DVD. Shortly after the band completed the national tour to support this release.
Line-up:
Ruslan Moiseev (drums),
Oleg Schegolev (guitar),
Vladimir Goloukhov (MalletKat - electronic vibraphone),
Vadim Morozov (bass)
"Sitting at home with my box of omnium I could do anything, see anything, and know everything
with no limit to my powers save that of my own imagination. Perhaps I could use it to extend my imagination. I could destroy, alter and improve the universe at will." -- Flann O'Brien (the Irish author and the inventory of the molecule theory explained the mysterious powers of Omnium)